London to Paris cycle raises €47,000 for children's hospital charities.
Last July, Jack O'Hare & Nial Herlihy embarked on a four-day cycle from London to Paris, a distance of over 500km, in aid of Great Ormond Street Children's Charity. Thanks to everyone who sponsored their endeavour, through your generosity, €23,500 was raised for this worthy cause. With Adesco matching the sponsorship, €23,500 was also raised for The Children's Foundation, Crumlin Hospital. This funding was used to purchase a centrifuge for the Oncology team and a new Indirect Ophthalmoscope for their Outpatient Department and Theatre.
Jack & Nial were part of a group of 33 cyclists who set out from London on a hot and humid day. The group headed south, passing through the picturesque countryside of Surrey and Sussex, before arriving that evening in the coastal city of Portsmouth to catch the overnight ferry to Caen in France.
Nial is a member of the Dungarvan Cycling Club, and Jack is involved with Abbeyside / Ballinacourty GAA Club. On day two, both men headed westward out of Caen to the Normandy coast, passing many of the historical World War 2 memorial sites, including the beaches where the British Normandy invasion occurred. They then turned eastward to start their journey towards Paris. They stopped for a coffee at Pegasus Bridge, the first area of France to be freed, during the Allied Invasion of Normandy in June 1944. Continuing to the famous town of Lisieux for their first overnight stop on French soil. On day three, both men continued eastward, passing through many small villages and towns in Normandy, stopping in the city of Evreux on the third night. They had an early start on the final day as they had to reach Paris by early afternoon.
When entering the suburbs, they had to negotiate the heavy and sometimes chaotic traffic as they made their way to the centre of Paris. Nial and Jack finally reached the group's rendezvous point at the 'Trocadero'. This elevated area looks down on the centre of Paris with a spectacular view of the Eiffel Tower. The final leg of the journey took them to the famous Arc De Triomphe roundabout and, from there, down the Avenue des Champs-Élysées, the same route as the finish of the Tour de France would be taking the following day. There was a degree of excitement and trepidation, considering that traffic congestion was hectic in Paris at this time of the afternoon. They are glad to report that all made it safely to the finishing line under the Eiffel Tower, where some friendly Irish faces greeted them. Thanks to Tony and Siobhan O'Mahony, who welcomed them across the line.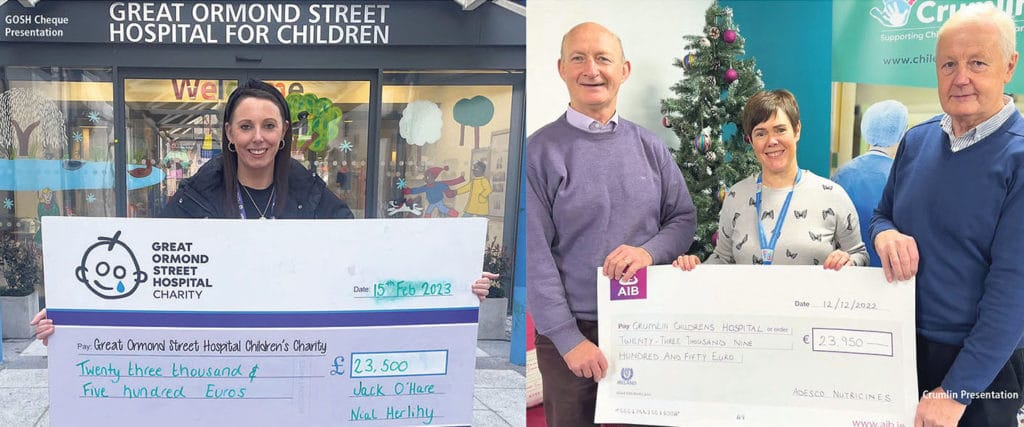 Once again, a big thanks to everyone who very generously sponsored them and, in doing so, supported these two very worthy causes.