R&D Update – Replacing Hi Pro Soya with Native Treated Faba Beans
Following on from our very successful Treated Barley trial earlier in the year, a commercial pig trial of nearly 1,800 pigs was conducted where the the pigs were fed a control diet and a diet containing native Treated Faba Beans.
Results
Key findings were similarly positive to our previous Treated Barley trial;
Similar Average Daily Gains (ADG)
Similar Feed Conversion Raitios (FCR)
Exceptional health performance resulting in fewer mortalities and carcass condemnations
Stock man reported Adesco Treated Beans pig was cleaner and healthier
Reduced protein and nitrogen content in diet – see our article on Sustainable options for Proteins in animal feed
Potential to reduce carbon footprint of production chain by up to 30% (kgCO2/kg pigmeat) as Sean discusses here
Preliminary results are presented in Figure 1. The final results will be published via a scientific paper once all figures have been verified and validated. We look forward to sharing these in due course.
Figure 1: Preliminary results of Adesco Treated Beans Commercial Finisher Pig Trial May – August 2020 – Coolamber Farm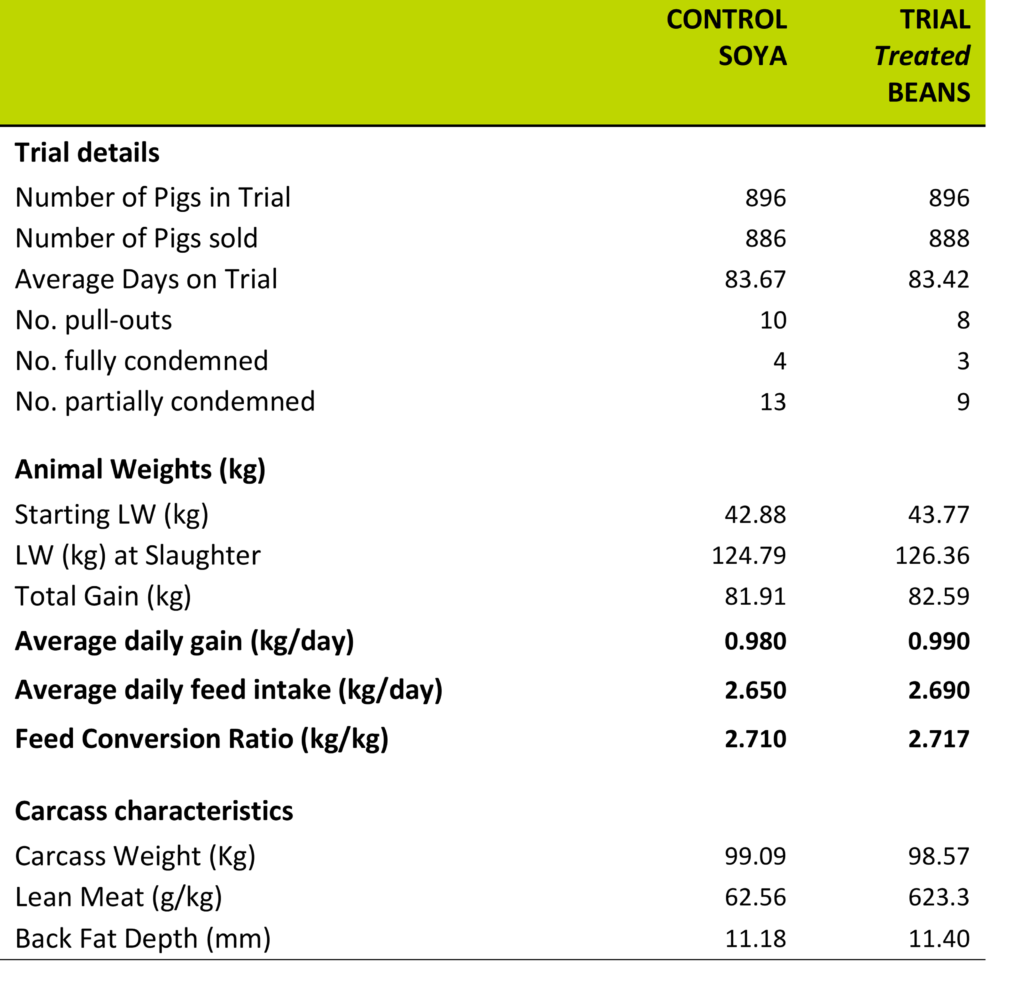 Trial Design
As a starting point for this Treated Beans work, a significant portion of Hi-pro soya in both the grower and finisher diets was replaced with native treated beans and the diets balanced. As results were so positive, future trials with higher inclusion levels of treated beans have already been scheduled for the winter period.
The hypothesis for these trials is;"Finisher pig performance is at least comparable when Adesco Treated Beans is used as a replacement for Hi Pro Soya as part of a balanced diet." Our commercial work will be supported by parallel scientific trials which are also due to commence.
As ummarised in Figure 2, NIR analysis and wet chemistry were completed for both diets throughout the trial to inform the research and future treated beans trials as was amino profiling.
Figure 2: Formulation details and lab analysis for control and trial diets used.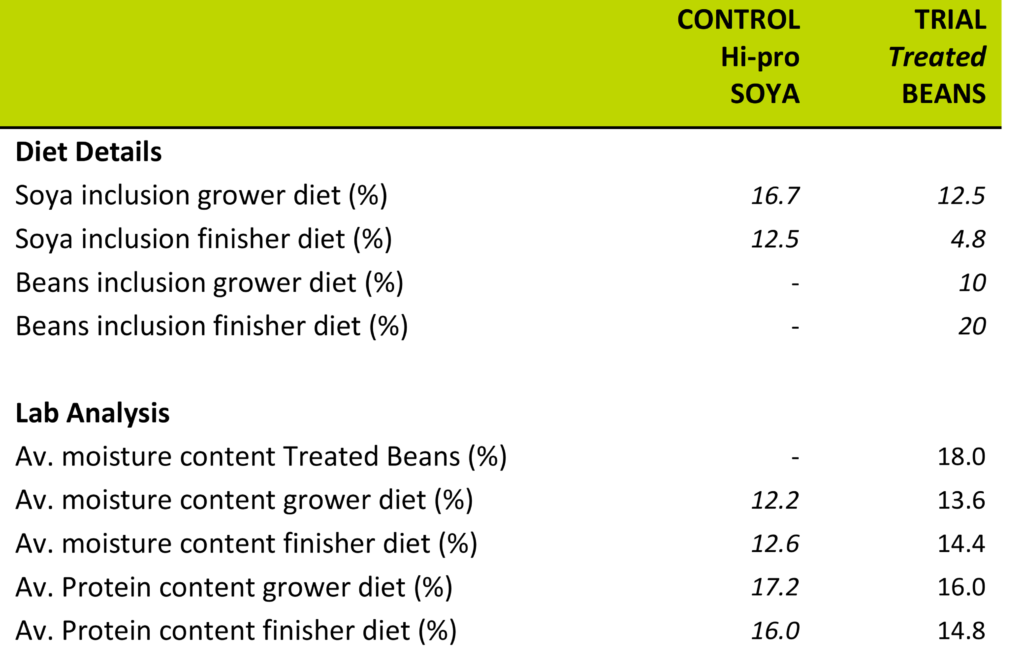 Discussion
The results are extremely positive for native treated beans and again highlight the overall sustainability merits of native grains and pulses and their importance into the future as a key raw material for not only sustainable pig production but all agricultural production. Results have been shared with the Department to highlight the benefits the tillage industry is already providing to the overall agricultural sector. In particular on this occassion with regards to the continuation of the Protein Aid Scheme based on results it is delivering toward environmental and sustainability targets.
Update on overall reasearch work
We have now started our 4-year scientific research programme in conjunction with University College Dublin & BiOrbic, Irelands Bioeconomy SFI Research Centre. As part of our programme we will be completing a number of scientific animal performance trials to mirror our commercial trial work, providing answers for our commercial findings. We will also be completing a number of Life Cycle Analysis (LCA) studies to confirm the sustainability benefits of each solution we trial.
On the commercial trial front we will be commencing an Adesco Treated Wheat finisher pig trial in October where we will be using this year's Treated Wheat against a dried wheat control. We are also finalising similar trials on the poultry (layers) side for both Treated Wheat and Treated Beans. Cattle trials are also organised for next spring where we will look at the benifits of native treated grain and pulses in dairy feed and also Kessesnt M as referenced in our sustainable proteins article.
On the feed side, commercial research aimed to further enhance the level of control and information provided by the iBox is well underway with all instrumentation now installed and process proving commencing this week.
We look forward to updating you on progress during visits and in our next newsletter before the end of the year.